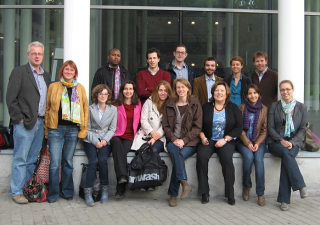 Anastasia Cozarenco, Valentina Hartarska, and Ariane Szafarz received the 2019 Warren Samuels Prize for the paper "Too Many Cooks Spoil the Broth: The Conflicting Impacts of Subsidies and Deposits on the Cost-Efficiency of Microfinance Institutions", Atlanta, USA, January 2019
The Warren Samuels Prize is awarded by the Association for Social Economics to a paper, presented at the Allied Social Science Associations (ASSA) meetings, that best exemplifies scholarly work that is of high quality, is important to the project of social economics, and has broad appeal across disciplines.
Selected publications
2022 Cornée S., M. Jegers, A. Szafarz, "Feasible Institutions of Social Finance: A Taxonomy," Journal of Institutional and Theoretical Economics, forthcoming.
2022 Cozarenco, A., V. Hartarska, A. Szafarz, "Subsidies to microfinance institutions: How do they affect cost efficiency and mission drift?" Applied Economics, forthcoming.

2022 Brière, M., J. Poterba, A. Szafarz, "Precautionary Liquidity and Retirement Saving," American Economic Review P&P, forthcoming.

2022 Périlleux, A., A. Szafarz, "Women in the Boardroom: A Bottom-up Approach to the Trickle-down Effect," Small Business Economics, 58, 4, 1783–1800

2021 Reichert, P., M. Hudon, A. Szafarz, R.K. Christensen, "Crowding-In or Crowding-Out? How Subsidies Signal the Path to Financial Independence of Social Enterprises," Perspectives on Public Management and Governance, 4, 3, 291-308

2020 Cozarenco, A., A. Szafarz, "The Regulation of Prosocial Lending: Are Loan Ceilings Effective?" Journal of Banking and Finance, 121, 105979.

2020 Abramowicz, M., A. Szafarz, "Ethics of Randomized Controlled Trials: Should Economists Care about Equipoise?," in Bédécarrats, F., Guérin, I., & Roubaud, F. (Eds.) Randomized Control Trials in the Field of Development: A Critical Perspective, Oxford University Press, pp. 280-292
2020 Varendh Mansson, C., T. Wry, A. Szafarz, "Anchors Aweigh? Then Time to go Upstream. Why we Need to Theorize 'Mission' before 'Drift'" Academy of Management Review, 45, 1, 230-234.
2020 Cornée, S., P. Kalmi, A. Szafarz, "The Business Model of Social Banks," Kyklos, 73, 2, 196-226.